While being a time of celebration and spending time with those closest to us, Christmas can also end up being an extremely expensive time of year. No one wants to be a Scrooge at Christmas, yet likewise no one wants to be dreading credit card bills hitting their doormat when January rolls around. However, the good is that there are a whole host of ways of enjoying all that the festive period has to offer without blowing the budget!
There are events and activities taking place all across Scotland sure to entertain the whole family while also allowing you to rein in the spends. Here is our round up of some of the best festive events being hosted throughout the country this Christmas.
EDINBURGH
Light Night
When and Where: George Street (17 November, 3.30pm)
Cost: Free
Forth Radio's Arlene Stuart, will once again ring in the official beginning of Edinburgh's Christmas celebrations by hosting the annual Christmas lights switch on.  Performances from Edinburgh's Little Voices Big Stars and Rock Choir Live make this an event not to be missed. With the afternoon cumulating in an incredible fireworks display and a "fly over" from Santa himself, this free event is likely to be busy so get there early!
24 Doors of Advent
When and Where: All across the city (1 - 24 December)
Cost: Free
Now an Edinburgh Christmas tradition, the 24 Doors of Advent gives residents and tourists alike a unique opportunity to explore Edinburgh throughout the entirety of December. From Canongate Kirk, the Sir Arthur Conan Doyle Centre, the National Library of Scotland, and the BT Murrayfield Stadium, the doors of some of the city's most recognisable buildings and monuments will be thrown open to the general public. Please be aware that while entrance to each location is completely free on the day, some will require you to book in advance.
Christmas Markets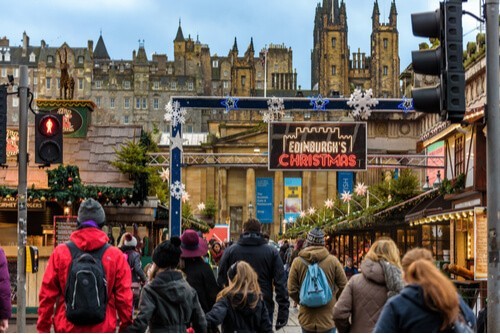 When and Where: East Princes Street Gardens (16 November – 4 January)
Cost: Admission is free; attractions vary
Whether you want to get ahead with your Christmas shopping, enjoy some hearty food and a warming glass of gluhwein, take a spin on the fairground rides, or simply soak up the festive atmosphere, the Christmas Markets are the perfect place to do just that. Following their grand opening on Saturday 16th November, the markets will be open all the way through the Christmas period and into the New Year meaning there is no excuse for you not to check them out!
Community Christmas
When and Where: Various locations across Edinburgh (11 – 22 December, 7.00pm)
Cost: Free
Twelve buildings across the city have been chosen to host a little slice of Christmas magic this year. The selected schools, libraries, and community hubs will be visited by a local choir who will sing all your favourite festive Christmas carols while an impressive lights display will be projected onto the building behind them. An event which is guaranteed to bring festive cheer to communities across Edinburgh.
Santa Fun Run and Walk
When and Where: West Princes Street Gardens (1 December, 9.30)
Cost: Free to watch
Hundreds of runners and walkers will take to West Princes Street Gardens this December to raise vital funds for the When You Wish Upon a Star charity. Competitors will complete a 2.5km loop around the Gardens, all donning Santa suits and hats! Bring the family down to celebrate the 15th anniversary of this Edinburgh Christmas institution.
Winter Windows
When and Where: All across the city (16 November – 26 December)
Cost: Free
With a theme of 'A Festive Welcome,' this year's Winter Windows displays are sure to give you that warm Christmas feeling. An array of stained glass windows, all of which have been designed by pupils from Edinburgh's schools, will be put on display across the city.
Night Walk for Edinburgh
When and Where: St Andrew's Square (16 November - 31 January, 3.30pm – 5.00pm)
Cost: Free
Take a unique walk through the Old Town thanks to the Janet Cardiff and George Bures Miller's interactive Night Walk for Edinburgh. Armed with a screen and a pair of earphones you will follow an hour long guided adventure along the city's streets and along the way lend a hand in solving a mystery. Slots are available every fifteen minutes and should be booked in advance to avoid disappointment.
Nativity Carol Concert
When and Where: Mound Precinct (1 December, 3.00pm)
Cost: Free
Harking back to the true meaning of Christmas, the Nativity Carol Concert hosted at the Mound Precinct is the perfect way to celebrate the beginning of advent. Gather the family around the nativity scene and enjoy carols sung by a variety of choirs selected from across the city.
GLASGOW
Christmas Markets
When and Where: George Square & St Enoch Square (9 November - 29 December)
Cost: Entrance is free
The ever popular Christmas Markets return to Glasgow city centre for another year this festive season. Kicking off in early November on St Enoch Square, they will then open on George Square on November 24th. Stall holders from across the globe will gather in Glasgow to offer a selection of unique handmade gifts as well as mouth-watering refreshments including crispy duck rotisserie, bratwurst sausage, and crepes, as well as traditional German beers and mulled wine.
Christmas Lights Switch On
When and Where: George Square (17 November, 6.00pm)
Cost: Free
Those who have been lucky enough to secure tickets to the annual Christmas Lights Switch On event are in for a treat; however, if you were not successful at the ballot, you will still be able to enjoy the impressive lights on George Square throughout November and into the New Year.
Style Mile Carnival
When and Where: City Centre (24 November, 2.30pm)
Cost: Free
For the sixth year, the Style Mile Carnival will take over Glasgow on Sunday 24th November, spreading festive cheer across the city centre. George Square will play host to live music, while a colourful procession of music, dance, and street performers will work its way across the city.
Blessing of the Crib
When and Where: George Square (4 December, 6.00pm)
Cost: Free
Once again the Lord Provost of Glasgow invites Glaswegians to the annual Blessing of the Crib. Joined by a local choir, the event celebrates the true meaning of Christmas in the heart of the city centre. It's an outdoor event so wrap up warm!
Santa Dash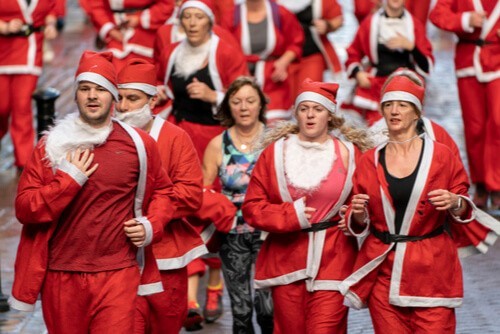 When and Where: George Square (9 December, 9.30am)
Cost: £15 to run; free to watch
Thousands of competitors will once again put on their Santa outfits and take to the city centre for a 5km run or walk. Open to individuals of all ages and abilities (including dogs!) the run now in its thirteenth year, is a much loved Glasgow tradition. If you are feeling less energetic, you can join the thousands of spectators cheering the runners on before enjoying a day out in the city.
Beauty and the Beast Pantomime
When and Where: Community Centres across Glasgow (3 – 20 December)
Cost: £5 for adults; £2.50 for children and concessions
Christmas is not Christmas without a family visit to a panto, and luckily, residents of Glasgow will be able to enjoy a great value performance of the much loved fairy tale, Beauty and the Beast. Touring around community centres around the city, the whole family are guaranteed to be delighted as they laugh, boo, and singalong to this heart-warming enactment of this family favourite.